Editing Office- Geneva
The instability and violence negatively affecting Libya since October 2014 has resulted in massive internal displacement. IOM Displacement Tracking Matrix (DTM) identified and located 348,372 internally displaced persons (IDPs) in Libya. Host communities have absorbed the bulk of the internally displaced, however, as the situation becomes protracted, their resources and basic services have become scarce and overstretched. Potential for return is minimal in safe areas because the overall security situation has not allowed for international assessment and assistance. For most of the internally displaced communities — including people displaced since the onset of the crisis in 2011 — there is no immediate prospect for return given the prevailing inter-community tensions.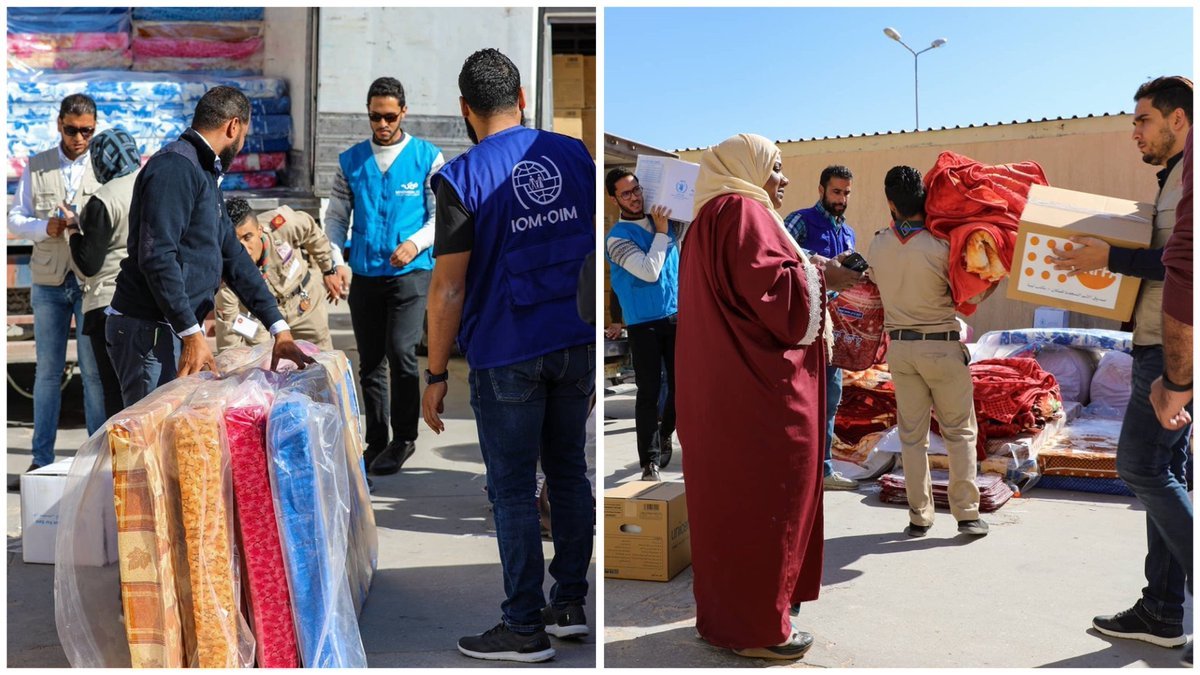 IOM DTM, as of Round 5, 2016, also identified and located 276,957 migrants in Libya, out of the around 700,000 to 1 million migrants expected to be within the country. Despite the current situation consisting of insecurity, a lack of rule of law and the loss of financial stability, Libya is still an important transit and destination country for migrants who arrive searching for employment or trying to reach Europe. In certain instances, migrants remain stranded in Libya and are caught by the authorities and imprisoned, or they become easy targets for the smuggling networks which promise safe travel to desperate people willing to embark on a dangerous trip by sea to Europe, or, are exploited and face human rights abuses within Libya.Based on estimates provided by embassies, the total population of migrants in Libya is about 700,000 – 1 million people, mainly coming from Egypt, Niger, Sudan, Nigeria, Bangladesh, Syria, and Mali. Migrants presently experience extreme insecurity in Libya, including arbitrary arrest by non-State actors, detention for indefinite periods of time, bonded labor, harassment and general exploitation. Given these circumstances, many migrants who had originally intended to stay and work in Libya eventually choose to take the journey across the Mediterranean Sea, perceiving this option as a safer living environment than remaining in Libya.This year there were 278,327 migrants that arrived to Europe by sea, as of 31 August 2016. During the same reporting period there were 3,168 people recorded dead or missing. Of them, 106,461 migrants arrived to Italy, as of 28 August, and 2,726 deaths were recorded along the Central Mediterranean Route, compared to last year's figures, when 116,147 migrants arrived to Italy between 1 January and 31 August 2015. For further information, please visit the Missing Migrants Project.

The constant tragedies in the Mediterranean, coupled with the deteriorating situation of the local population, make it necessary to address the instability in Libya through various interventions. IOM commenced activities in Libya in 2006, and continues to maintain a strong presence in the country since the establishment of the mission in Tripoli. Despite the present evacuation of all international IOM staff from Libya to Tunisia, IOM Libya remains fully operational and continues to provide humanitarian repatriation assistance to migrants, particularly to the most vulnerable, such as victims of trafficking (VoTs) and other forms of abuse, women and single mothers, as well as to families, to return home to their country of origin in a safe and dignified manner.Since the eruption of armed confrontations in and around Tripoli in August, 2014, IOM has facilitated the safe return of 3,045 migrants from 27 different countries, the majority of whom moved directly from Tripoli. In addition, and in response to the humanitarian crisis affecting migrant and IDP communities all over Libya, IOM has distributed non-food items, including clothes, shoes, and other basic necessities, as well as hygiene kits to IDP families and migrants.IOM has also provided immediate humanitarian assistance to several hundred migrants rescued at sea by the Libyan Coast Guard through the provision of specialized health care including psychosocial support, clothing, hygiene articles and other basic necessities. These services have been provided by local partners on the ground, who have been thoroughly trained to assess migrants' needs through the identification of potential vulnerable groups, such as victims of trafficking, unaccompanied minors, and migrants in need of mental health services. Referrals to specialized professional institutions or to pertinent international organizations for further assistance are also provided.IOM recognizes the need to provide tailored assistance to those individuals falling into the following vulnerable categories: (a) Migrants, (b) IDPs, and (c) Host Communities. As much as immediate and life-saving direct assistance to migrants on their precarious journeys is necessary, a comprehensive response needs to be developed that addresses the lack of rule of law, the proliferation of smuggling, trafficking in persons and human rights abuses against migrants, as well as the continuous displacement of persons and the burden this places on the local communities.IOM has developed a comprehensive approach designed to strengthen the capacity of relevant authorities to address these complex migration flows. In order to implement this programming, IOM is building on its current work with relevant national and local authorities, national nongovernmental organizations (NGOs)/ civil society organizations (CSOs), and local communities and leaders.

FOR MORE INFORMATION: https://www.iom.int/countries/libya