Editing Office - GENEVA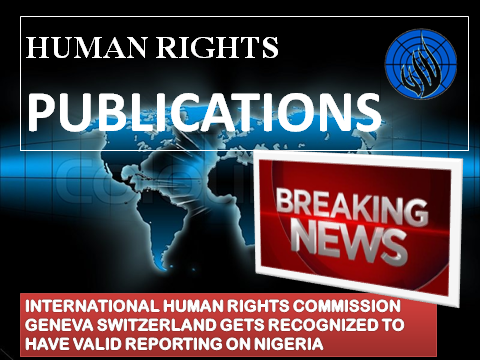 the UN registered International Human Rights Commission Geneva Switzerland has been accredited by the Federal Ministry of Foreign Affairs in Nigeria which gave the IHRC body the go-ahead nod as a player in the international community service working for enduring values of justice and fairness, national and international cooperation and partnerships building for the people's sake.
It is with the action and gesture from the declaration of the federal government of Nigeria through the Minister of Foreign Affairs, H.E Mr. Geoffrey Onyeama that the Nigerian committee of IHRC followed up with the instructions to get their application for registration with the Nigerian authorities actualized. This position stems from the instructions from the declaration of the federal government of Nigeria to ensure the full respect for the procedure dictates in registering of international non-governmental organizations with the Federal Ministry of Budget and National Planning in Nigeria.
To face the law as a responsible corporate office, all the requirements for the registration was tendered by the IHRC team in Nigeria and effective recognition as a duly registered body to operate and report on Nigeria has been graciously approved by H.E Mr. Udo Udoma, Nigeria's Minister in charge of Budget and National Planning. H.E Dr. Tivlumun Innocent Ahure, the Secretary-General of the Africa Region HQ of the IHRC has described the achievement as being in strict compliance with the rule of law.
Dr. Ahure has further today excitedly announced that the Economic and Financial Crimes Commission (EFFC) has done it's diligence checks and accorded powers of executive approval of the IHRC in Nigeria to have automatic legal status.