Editing Office - GENEVA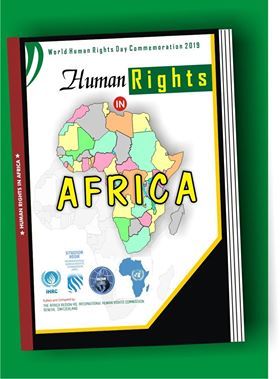 "HUMAN RIGHTS IN AFRICA" an initiative of the Africa region HQ of the International Human Rights Commission, Geneva - Switzerland is a continent wide expositions to highly encourage protection of human rights, preventing injustice and rating governance to appreciate the very high IQs leadership promoting ideals indicating the sanctity of the UN Universal Declaration of Human Rights as responsible for making nations to succeed.
The International News Agency for Human Rights (INHR) and the IHRC Situation Room has concluded the arrangements for a hitch free outing for this enterprise to be unveiled both in electronic devices, electronic news media and print in preparation for the commemorations of the world human rights day on 10th December, 2019.
H.E Dr. Tivlumun Innocent Ahure the IHRC Africa Region Secretary General has posited that this is intended to be the real information that will emphasize that it is totally irresponsible for leadership neglect the ideals of human rights protection and to be promoting chaos instead of preventing it.
Dr. Tivlumun Innocent Ahure views the subject of the project especially when it comes to the third World nations in Africa where governments leaps beyond the precipice, dismisses itself, and joins ranks with crime as a topic that has to be told via the strongest statement. Dr. Ahure has traced the perplexities and distresses of African human rights issues and given a passionate call for the 55 countries in the continent to send their editorials for inclusion in the project.