Based on findings from the field , a report published today by Kinyat and FIDH describes how the Islamic State (ISIL) legitimised, organised and planned the sexual trafficking of captive Yazidis in Iraq and Syria. The report calls for prosecution of foreign fighters by national and international courts on charges of sexual crimes amounting to genocide and crimes against humanity, in a context where the response of the authorities thus far has been limited to the fight against terrorism.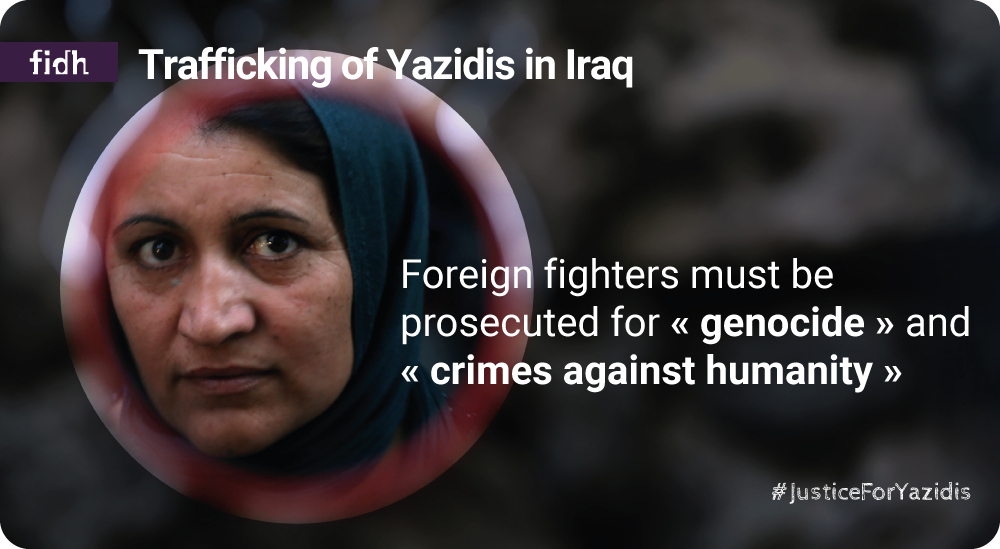 The report , released today, is based on documentation work by the Kinyat Organization for Documentation, which has been actively documenting crimes committed against the Yazidis since 2014, and a series of interviews with Yazidi survivors and other stakeholders conducted by FIDH and Kinyat during two fact-finding missions to Iraq.
The report highlights the grave crimes perpetrated against Yazidi captives, including at the hands of foreign ISIL fighters. Among the nationalities documented by Kinyat and FIDH: French, German, American, Saudi, Libyan, Tunisian, Lebanese, Palestinian, Yemeni and Chinese fighters.
When ISIL captured Mosul on 10 June 2014, the group started a campaign to "purify" the region of its "non-Islamic" and Shiite communities. On 3 August 2014, ISIL fighters attacked the Sinjar district, forcing 130,000 Yazidis to flee to Kurdish areas. With nowhere else to go, tens of thousands of members of the community were forced to take refuge in the Sinjar mountains, in atrocious conditions. At least 1700 people died due to lack of water, food, shade, and medical equipment. The Sinjar attack marked the beginning of a brutal campaign to eliminate the Yazidi identity, involving violations committed on a massive scale, forced conversions to Islam, the separation of families and enslavement of surviving women and children, considered as spoils of war. A campaign which, according to FIDH and Kinyat, amounts to genocide and crimes against humanity. ISIL widely publicised the crimes committed against the Yazidis, using them as propaganda to attract new recruits and terrorise civilians. These crimes were legitimised in advance through a series of religious and legal concepts including sabaya (spoils of war) and especially Al Sabi (capture and enslavement of women and children of the non-believers). This rhetoric was developed in ISIL magazines as well as in religious studies that were specifically devoted to the question of slavery, with a particular focus on sexual slavery. ISIL also carefully organised and planned the trafficking of Yazidi women and children, who were systematically separated from men. Many captives were sold at slave markets or on specialized websites via applications like Telegram and Signal. One online resale chat group, called "The Great Mall of the Islamic State" had up to 754 members. Here, ISIL fighters could buy women or children, with detailed descriptions of their age or physical appearance, as well as weapons or cars.