Editing Office
Summary Day Three Assembly of States Parties 2018
Slovenia signs an agreement on the enforcement of sentences with the Court © Coalition for the ICC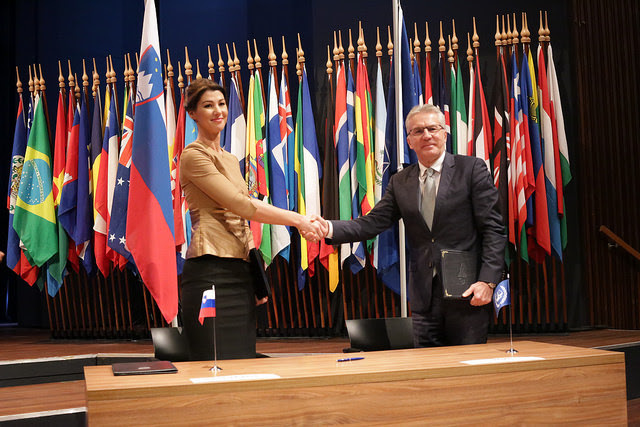 Day Three of the 17th session of the ASP saw plenary discussions on the topic of cooperation and the 20th anniversary of the Rome Statute, as well as the resumption of the General Debate. The day opened with a special plenary meeting dedicated to the topic of cooperation and entitled, "20 years after Rome: Back to the major challenges of cooperation." Discussions focused on financial investigations; arrests; and voluntary cooperation agreements.
2018 marks the 20th anniversary of the adoption of the Rome Statute. Throughout 2018, many events were organized around the world by civil society, states parties, and the Court to commemorate the 20th anniversary. The Assembly also decided to hold a plenary session on the 20th anniversary during its seventeenth session. The plenary session provided an opportunity to reflect on the Rome Statute system's achievements to date, while also addressing changes and challenges in the international political landscape since 1998 and the role of the Court.


The Debate resumed in the afternoon of Day 3 with seven speakers from civil society: Mr. Chino Obiagwu (Nigerian national coalition for the ICC (NCICC)/African Network for International Criminal Justice (ANICJ); Ms. Nino Tsagareishvili (Human Rights Centre (HRIDC)/Georgian national coalition for the ICC (GCICC); Mr. Michael Greco (American Bar Association [ABA]; Ms. Olga Guzman Vergara (Comision Mexicana de Defensa y Promocion de los Derechos Humanos (CMPDPDH); Mr. Hadi Marifat (Transitional Justice Coordination Group-Afghanistan); Mr. Richard Dicker (Human Rights Watch); and Mr. Arpee Santiago (Philippines national coalition for the ICC).
Events on the sidelines of the ASP on Day 3 took the substantive discussions even further with 12 side events taking place. The day ended with a reception hosted by the Coalition for the International Criminal Court and the City of The Hague.