Editing Office - Geneva
Nigeria's keenly anticipated presidential and national assembly elections are scheduled for February 16, 2019, while the elections for state governors and state assemblies are scheduled for March 2, 2019. These elections come 20 years after the restoration of democratic, multiparty constitutional rule in Nigeria.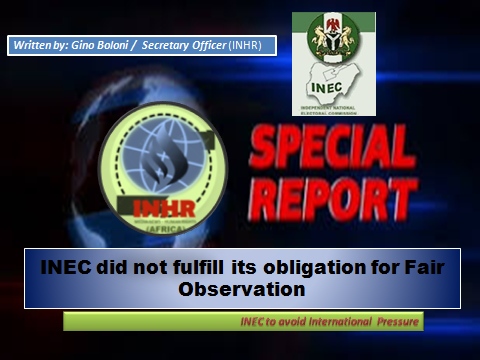 Nigeria's political parties are in full campaign mode ahead of national and state-level elections early next year, and unfortunately signs are emerging that election-related violence is a real possibility. It's not too late, however, for Nigerians and the international community to take steps to reduce the risks of coercion and possibly even bloodshed.

INHR Spokesman "Gino Boloni" assured that IHRC had received a formal letter to Observe the upcoming Nigerian and the International News Agency for Human Rights (INHR) is raising the matter of the non-compliance of the INEC in regard to the Obligations towards the Observers as usually taken in all part of the World.
The spokesman added that it is a very delicate and dangerous act adopted by the INEC as Special Assistant to the IHRC Commissioner Mr. Innocent Ahure had briefed him on the INEC disclaiming hosting the delegates as made normally.
INHR responsible concluded that heavy reports on the misconduct of the elections path information will be revealed to the Headquarter of the Human Rights Commission in Geneva and the UN Secretary Office in New York.
On the other hand, INHR Head Organization Ambassador Dr. Haissam Bou-Said warned a specific State from interfering in favour of a certain Presidential Candidate, hoping that retrieving from its obligation INEC will not be under questioning by the International Community.