Editing office - Islamabad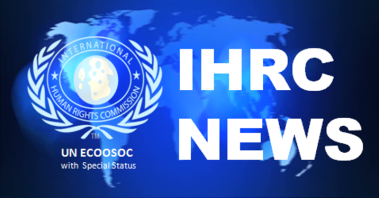 During a phone call between IHRC Chief Amb. Dr Mohamed Shahid Amin Khan with Deputy High Representative for International Affairs and Permanent Representative to UNOG Amb. Dr Haissam BOU-SAID, an official statement was issued
" Promotion and protection of human rights is a global responsibility which the international community has failed to discharge in respect of the Kashmiri people. International Community must realize that people of Indian-occupied Jammu & Kashmir have been under siege since India's illegal abrogation of Article 370/35A on August 5, 2019.
Kashmir Valley till today is the scene of the biggest, bloodiest and perhaps the most obscure military occupation in the world. India's illegal and unilateral steps seeking to change the status of Jammu & Kashmir through its 5 August 2019 actions in contravention of international law and the relevant UN Security Council resolutions have once again brought the entire region to the brink of another India-Pakistan conflict. The use of force is not and has never been the answer to peoples' quest for freedom. Popular movements cannot be suppressed by force. The only durable solution to the Kashmir dispute lies in allowing the Kashmiris to choose their own destiny as pledged to them by the international community in UN Security Council resolutions.
There is no justification whatsoever for denying the inalienable right of self-determination to the people of Jammu and Kashmir. International Human Rights Commission #IHRC urging to the UN's human rights agencies, notably the Human Rights Council, Office of High Commissioner for Human Rights (OHCHR), as well as other international agencies including ICRC, Amnesty International and International Crisis Group must remain engaged to monitor the on-ground situation in Indian-held Kashmir. 0ver the years, Kashmir has magnified manifold becoming today a veritable nuclear flash point.
The United Nations must fulfill its responsibility to prevent the Kashmir issue from erupting into another India-Pakistan conflict with perilous consequences for the region and the world at large. International Human Rights Commission #IHRC urging to the world powers, including the United States should facilitate a fair and lasting settlement of the Kashmir dispute. India must restore normalcy in the occupied Kashmir by ending human rights abuses and its illegal actions to change the nature of the disputed territory through demographic engineering in Kashmir. India must avoid intimidation and hurling of threats against Pakistan. The world's major powers, especially the five permanent members of the UNSC owe it to the world not to let the impending risk of genocide in the Indian occupied Kashmir become reality. The UN General Assembly should also play its due role in advancing the cause of peace and justice in Kashmir.
One effective modality available to the Assembly in this regard is to invite the ICJ for its Advisory Opinion on the illegality of India's recent actions seeking to alter the status of Indian Occupied Jammu and Kashmir. UN Secretary-General must appoint without further delay an eminent person of an international standing as his special envoy on Kashmir to monitor the situation in Kashmir including the human rights situation.