Editing Office - IHRC Bangladesh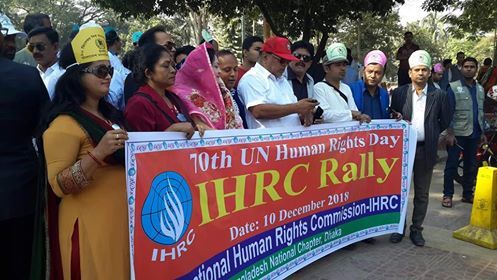 The 70th anniversary of the Universal Declaration of Human Rights Day has been observed on 10th December 2018 through "Human Chain" organized by International Human Rights Commission-IHRC Bangladesh Chapter at Central Shahid Minar Dhaka to in front National Press Club, Dhaka.
IHRC International Secretary General Dr. Saiful I. Dildar, IHRC President of Bangladesh Chapter Dr. ASM Badruddoza, IHRC General Secretary of Bangladesh Chapter Dil Farzana Bithi led the colorful rally. Mr. Sikander Ali Zahid, Govern, Dhaka City, Akhteruzzaman Babul and Dr. Anwar Farazy Emon, Deputy Governor of Bangladesh Human Rights Commission-BHRC including hundreds of human rights activist were present the rally.