Editing Office - Geneva
What?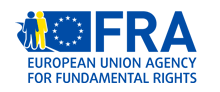 The Agency is starting an EU-wide LGBTI survey, six years after the first one. The survey will collect the experiences of discrimination and hate crime as well as the views of lesbian, gay, bisexual, trans and, for the first time, intersex people across the EU. It will also cover the former Yugoslav Republic of Macedonia, as an EU candidate country.
Why?
In 2012, the Agency carried out an LGBT survey to address the lack of robust, statistical data on the life experiences of LGBT people in the EU. The results provided evidence on how the EU's anti-discrimination legislation is implemented on the ground and was followed-up by EU and national policy initiatives to improve the situation. This repeat survey aims to assist EU institutions and the Member States in their efforts to further strengthen the legal and policy frameworks protecting the fundamental rights of LGBTI people. The data can be used to assess the effectiveness of policies and measures to combat discrimination, victimization, and to promote societal participation.
How?
The EU-LGBTI Survey II will be carried out online, as this population group is considered hard to sample using traditional methods. It is planned to go online in 2019. The survey will collect data on the experiences of LGBTI people. They will be invited to complete an online questionnaire about aspects of their daily life, and their experiences of discrimination and hate-motivated victimization.