Editng office - Geneva
The people were Rohingya and an outbreak of violence had forced them from their homes. Tasmin, like many in the Bangladesh host community, took them in, and provided them with food and shelter.
"We felt bad about how Muslims like ourselves were being burned and killed on the other side and sympathized with them," she remembers. After a couple of days that group of people left to move further north where refugee camps were beginning to grow.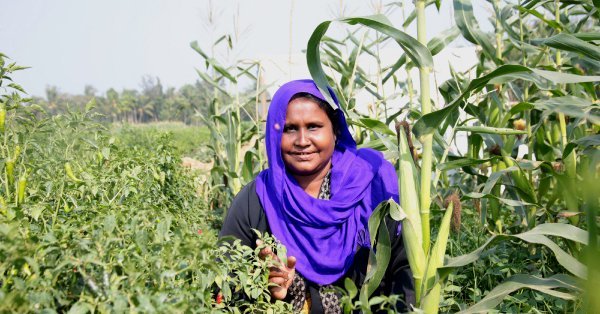 But more people kept coming. First 20, then 40, then 60. She soon lost count but did everything she could to assist.

One and a half years later, the refugees have left Dakhinpara, the small village that sits on the very tip of Bangladesh, for refugee camps further north in Cox's Bazar. However, life hasn't returned to normal for the community here. The huge growth in population meant that resources became scarce and prices increased. The price of food hasn't returned to previous levels which means it's difficult for Tasmin and her family to afford things they used to.

Tasmin is one of around 40 women who have just received a cash grant from WFP to start a small business. They are part of WFP's livelihoods programme in the host community which provides women with training in entrepreneurship, basic literacy and numeracy, and life skills, as well as a cash grant to start their own businesses. Recognizing the strain that has been put on the host community, WFP is scaling up a livelihoods programme and working to reach 45,000 families in the region by the end of 2019. Tasmin plans on expanding her fisheries and vegetable businesses with the money and will invest in fish eggs for a pond that she has at the back of her house.

Meanwhile, down the road lives Khotiza Akter, a single mother who stays with her parents. Her husband left her when she was six months pregnant with her now 8-year-old daughter. She's struggled to make a living for herself since and plans on starting a goat rearing business with her cash grant. Khotiza says having access to income and setting up a small business is helping her and her daughter achieve their dreams. "I hope to become a businesswoman and an entrepreneur," she says. "With more money I will try to eat better and build a better future of my child. My dream for her is to become a teacher."

Toyuba Khatun is a neighbour and also part of the livelihoods programme, and she says that the benefits of the programme go well beyond the cash injection to households. "Women like me rarely get to leave the house for anything," she says. "Now we have a group meeting twice a month and being able to go outside to attend a social gathering like this has been a learning process for me." This community on the tip of Bangladesh that provided for thousands of refugees as they fled across the border has undergone a change that may never be reversed. Livelihoods programmes such as this one are vital for ensuring the community remains food secure and can build a brighter future.