Editing Office - Geneva
On the occasion of the 40th session of the UN Human Rights Council
(Geneva, 25 February - 8 March 2019)
'Geneva for Human Rights – Global Training' (GHR) conducts its 44th Geneva Course from 25 February to 8 March 2019. The Course takes place on the occasion of the 40th session of the UN Human Rights Council (25 February - 22 March 2019).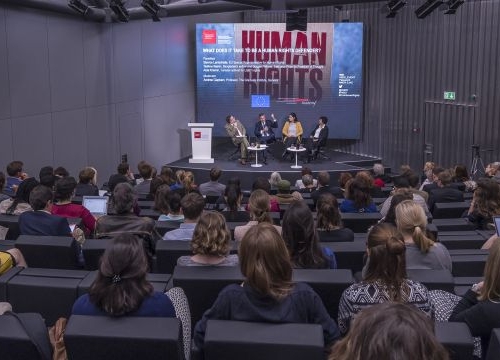 THE GENEVA COURSE in Cooperation with the INTERNATIONAL NEWS AGENCY FOR HUMAN RIGHTS (INHR

)

The Geneva Course takes place during the regular session of the HR-Council. It is an interactive and intensive training. Trainees acquire basic knowledge in international human rights, humanitarian and criminal laws; transitional justice; inter-governmental organisations (IGOs); the UN, its structure, its reform and the role of its main organs; the trends in international relations; the functioning of the HR-Council and its mechanisms; the human rights standard setting process; and the human rights treaty bodies. With the wide training experience of its trainers in Geneva, GHR Geneva Courses are unique. They combine the theory, the exchanges on the experience of the participants (field situations) and the exposure to the multilateral reality, which the trainees monitor. Composed of its researchers and interns from different universities, GHR Department of Human Rights Policy Studies (HPS) assists the trainees during the HR-Council's session.

PARTICIPANTS IN THE 44TH GENEVA COURSE
The Geneva Courses are part of a Programme, aiming at a full and effective participation of defenders from the regions in the work of the HR-Council. This is essential for quality of the HR-Council's deliberations. Priority in the selection is given to defenders and NGOs from the regions, in particular to potential trainers, and to those using international procedures. The Course also welcomes members of national and regional NGOs delegations attending the HR-Council session, and trainees from regional and international human rights organisations having their seat or representation at the UN Office in Geneva.

FOR MORE INFORMATION ALL INHR AND IHRC MEMBERS ARE REQUIRED TO SEND THEIR REQUEST AT
ihrc.geneva.hq@gmail.com